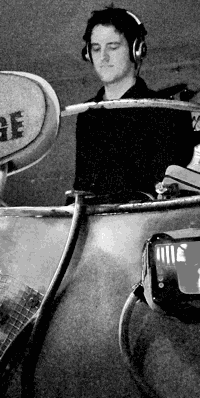 Hey there! My name's Philip Age and yes, this is my homepage. It's got pretty pictures, some texts and – of course – downloadable music. Hopefully you'll find it useful. If not, tell me about it.
Latest mix: Philip Age - Harvest
As for the texts, here we go: I'm a producer/dj stationed at Prague, Czech Republic. I have a long history of producing electronic music and DJing. As many others, I started on a crappy PC way back in the 90's. (At first I was running a program called "Sound Club", then I moved to the usual suspects such as Fast Tracker II, Reason, Reaktor etc.) In 2006 I got a DJ residency at Club Mono outside Osaka, Japan. After coming back to the Czech Republic (where I was born and where I live now), I did one last gig at a club called Fléda in Brno, then abandoned active producing and DJing for 2 years, pursuing a more stable & profitable career in advertising.
Fast forward to 2008 when I came back behind the decks. I bought a sampler and started to develop a more creative & energetic mixing style. I released a couple of promo mixes that were received well. I also came out with a way to lay down tracks' composition – the DJ notation (visit www.djnotation.org for more info on this).
The tracks I play and produce could be described as Progressive House, Tech-House and Techno. The list of my favourite DJs starts with James Holden, Dave Seaman & Hernan Cattaneo.