In the course of the last 10 years, I've used a lot of different pieces of technology to produce and/or play music. It started with an accordion (yes, accordion), continued with an electronic keyboard, then a program called Sound Club, then the legendary Fast Tracker II, then a bunch of other software, then Ableton Live.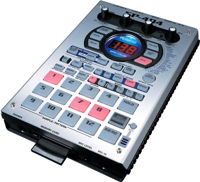 Here's the gear I use now: for DJing, I use 2 CDJ players (Reloop), a sampler (Roland SP-404) and a mixer. The ability to play from CDJs means I can play pretty much anywhere, while the (optional) sampler means I can enrich my sets with custom loops and sounds. I also like to create my own tracks, DJ tools and loops in Ableton Live. While producing, I love to use the Native Instruments plug-ins such as the FM8, Massive, Battery & Reaktor.
For the smoothest transitions possible, I use harmonic mixing and DJ notation. The first one is made easy with the popular Mixed in Key software that automatically finds the musical key of any song (or sample) given to it. The second one is my own creation and helps with mix timing. You can find out more about DJ notation at www.djnotation.org.
If you have any questions about the technology I use, visit the contact page and drop me an email.